Life with Ripley gets more interesting by the day. One moment I have this adorable, fluffy dog, and the next, a dog with a lot less hair.
You see, I took Ripley for a spa day, assuming he'd enjoy (
ha ha
) a shampoo, nail trim, and after a soothing brushing, a little trim of his beautiful, curly coat. I didn't expect that when I went to pick him up after his four hour (
Yes, it did take that long! Perhaps that should have been a hint to me
.) stay at the groomer's, he'd have a whole lot less hair than he had when I took him in!! The groomer told me that she misunderstood me and thought I asked for Ripley to be shaved.
Regardless, my now short-haired pooch is able to properly review the simply stunning All-in-One Harness that we were sent by Sharon from
Around the Collar
.
About Around the Collar (from their website):
In 2001, with over 20 years in the leather accessories business, we entered the wonderful world of pets. We take pride in producing fashion savvy collars, leashes, harnesses and carriers with the same craftsmanship and attention we use to produce fine designer handbags and belts.

We truly believe that you and your pet should always be "well accessorized" and never compromise. At Around the Collar, detail is never forgotten. We use top-grade leather (even for our linings!), genuine Swarovski stones and create everything in our New York Studio to ensure your pet is stylish and comfortable. Every item is treated with love and care and dedicated to the ones we all adore … our pets.
I first stumbled upon the
Around the Collar
website when I was searching the internet for items with which to pamper the female miniature schnauzer we hoped to rescue, Bella. I was immediately drawn to the unique and stunning items offered by
Around the Collar
. Just glancing at the images, I could picture our new pup sporting a bubble-gum pink leather collar with white leather flowers and Swarovski crystals. I knew I HAD to have some bling for Bella, but without knowing her measurements, I had to put an order on hold.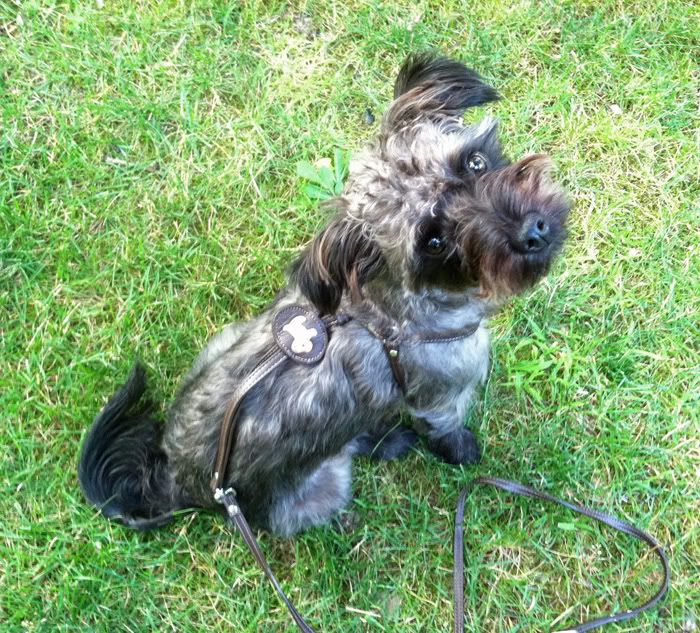 Fast forward several weeks, and we found that Bella was not meant to be; rather, we were chosen by Ripley to be his forever family. Once again, I contacted Sharon, and after a wonderful chat on the phone where we discussed Ripley, blogging, her business, and San Francisco and NYC (I absolutely love her NY accent!), Sharon told me she and her husband (the creative geniuses behind the one-of-a kind
Around the Collar
designs) would custom-make Ripley an All-in-One Harness based on the measurements I provided her.
When the harness arrived in the mail, I was first impressed by the beautiful design and excellent craftsmanship. It is a soft brown leather with contrast stitching and an oval slider. On the slider is an image of a dog. Quite unique. After playing around a little with it on Ripley, I figured out how it worked (Poor Rip had to endure a bit of patience with me on this one!) If only I would have realized right away that the leather oval slider on the harness is what made the harness adjustable and secure. Silly me didn't even try that until after Ripley wore the harness several times!
I must say, now that we have had many walks with the harness, I love how easy it is to slip on Ripley. He looks handsome, and no matter where we go, we are stopped by at least one person comments on the harness. Everyone who has seen it agrees that it is truly unique. You simply will not find anything like it in your typical pet store.
If you are in need of a new collar, leash, or harness (or if you are like me and love to spoil your pet), then I highly recommend
Around the Collar
for your pet! Whether you are looking for some sweet bling, fancy flowers, tough studs, or some other design, you will find a vast selection of materials and decorative touches at
Around the Collar
. You won't find anything quite like their designs, and most definitely not with the excellent craftsmanship you'll get with
Around the Collar
.
After all, doesn't your pet deserve the very best?
Disclosure:
The product(s) provided for the review were sent to me free of charge from the company or the PR agency. The product(s) offered for the giveaway are free of charge, no purchase necessary. My opinions are my own and not by any means influenced by any other part.