Looking to give a sweet treat to someone special for Valentine's Day? Perhaps you are hoping to receive something deliciously wonderful from your other half this year. If so, you need to look no further than
Coco-Zen
for the most amazing organic, Fair-Trade chocolate truffles ever.
Coco-Zen
is a mom-owned business. Not only do they sell yummy, organic chocolate truffles in many mouth-watering flavors, they also offer decadent chocolate body treats. That's right, you can pamper your lips and your skin with the tantalizing scent of chocolate. (Oh. My. Heck. The chocoholic I am NEEDS to try the body products by
Coco-Zen
!)
A little background about
Coco-Zen
:
Coco-Zen came about when new mom and chocoholic, Joyce Kushner, decided to take a break from the frenetic pace of retail marketing to stay at home to care for her newborn son. During maternity leave, Joyce spent her 45-minute "breaks" while her son napped making chocolate desserts. It turned out that experimenting with chocolates (and tasting them!) helped Joyce maintain her post-partum "tranquility."

Chocolate truffles being her favorite, Joyce soon developed several "harmonious" flavor combinations and gave them away to family and friends (while extolling the wonders of a little daily chocolate indulgence). As it turned out, the truffles were a hit. So deciding to take a chance, she said goodbye to corporate America and went into business for herself.

Thus, Coco-Zen was born - spreading the joy of chocolate "enlightenment" one truffle at a time.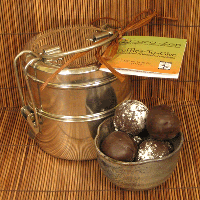 Thanks to
Mom Fuse
and
Coco-Zen
, I had the absolute pleasure of sampling some of the truffles. I was sent dark chocolate and chocolate mint truffles in a beautiful two-tier To-Give tin, as well as the Signature Sampler To-Go tin.
When the truffles arrived, I selfishly wanted to hide them away and keep them for myself. Instead, I took them to Emma's birthday party and shared them with the whole family. They were a hit!
The size of the truffles is generous, and though you could eat one and probably be satisfied, they are far too addicting to stop at one!
The favorite truffles among the group was the Chocolate Mint Bliss. The mint flavor was perfect- not at all overpowering. I most wanted to try the Chai Spice, but there was only one of them, and my sister got to it before I could. She told me that it was the best chocolate she had ever tasted. She described the flavor as the perfect blend of her two favorite things- chocolate and chai tea lattes.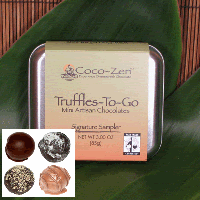 I will definitely be purchasing more truffles to give as gifts (and for myself, too) from
Coco-Zen
. I'm thinking with Valentine's Day and our wedding anniversary just around the corner, I need to let my hubby know about
Coco-Zen
- the perfect place to shop for chocolate treats to pamper my body and satisfy my sweet tooth. :)
Coco-Zen
would like to offer all living life one day at a time and
Mom Fuse
readers a chance to experience all the chocolate goodness that
Coco-Zen
has to offer at a 10% discount. Just enter the code MOMFUSE10 at checkout. (Offer good until February 14, 2009)
One of my readers has the chance to win a $25 e-card from
Coco-Zen
as well.
HOW TO WIN:
• Visit
Coco-Zen
, and then come back here and tell me which flavor truffle you'd love most or which body product you'd really like to try.
• If you are not a blogger, email 3 of your friends telling them about this giveaway, and cc me at colleenstearns@gmail.com.
ENTER DAILY!!!
Once you post your initial entry, you can come back daily and tell me you want another entry. :)
SCORE EXTRA ENTRIES:
1. Blog about this giveaway with a link back to my site and
Coco-Zen
(be sure to post your link here so I know where to find it).
2. Subscribe to my blog via email.
3. Click on the FOLLOW THIS BLOG link on my left sidebar.
4. Tweet about this contest on Twitter (Be sure to follow me on Twitter too- see link in my sidebar.). Make sure to leave a link to your twitter message in your comment. You can do this once a day. Please make sure to come back each day and leave another comment with your new twitter message link.
IMPORTANT:
Be sure to leave a separate comment for each entry.
*Enter by 9pm (EST) on Friday, February 6, 2009.
One lucky commenter will be chosen at random and notified via email, so make sure you leave a valid email address in your comment. The winner will have 48 hours to respond to the email. If she or he does not respond within 48 hours, a new random winner will be chosen.