cmarchuska,
makers of organic clothing for women and men, have created clothing that is not only
eco
-friendly but fashionable as well. Going Green has never felt more comfortable!
An excerpt from the
cmarchuska
website:
Why cmarchuska clothing and

Marchuska

tees?
cmarchuska clothing and

Marchuska

tees redefine comfort, fit and fashion:
most

eco

-friendly clothing is good for the earth, but is lacking in style and cut.
high fashion clothing is usually made with fabrics that are processed with excessive amounts of waste.
the few lines that incorporate high fashion with sustainable fabrics are excessively overpriced. cmarchuska clothing and

Marchuska

tees are the answer by bringing together high fashion and sustainable high quality fabrics at an affordable price.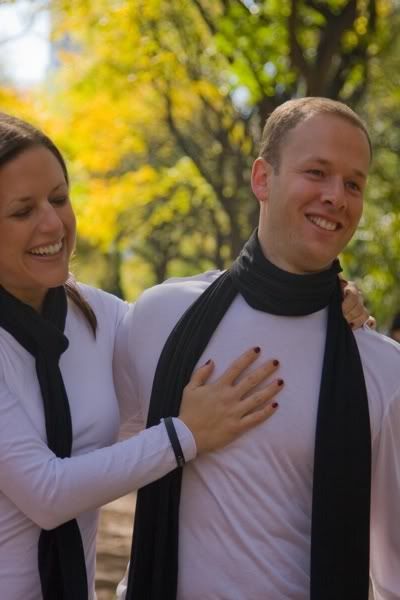 I was sent the
Hunter Scarf
to review. The package arrived while I was not home, and my husband, without reading
the
mailing label, assumed it was something he ordered. So, he opened it. When I returned home, I say that the package appeared to be opened and then
re-taped
.
Hmmm
....
I asked my dear husband if he opened the package, and unable to lie, admitted he did. I asked why he
re-taped
it, he said, "I didn't want to upset you that I saw one of my Christmas presents."
What?
When I explained that I was reviewing the
Hunter Scarf
on my blog for
cmarchuska
, and that the scarf was mine, he was a bit disappointed. One touch of that silky material around my neck and I understood why.
The Hunter Scarf is the perfect accessory for the stylish and socially conscious individual. Super soft, long unisex scarf made of an organic blend of modal and silk. Made with care in New York's Garment District, USA. Part of the

cmarchuska

Signature Collection.
The
Hunter Scarf
is the
perfect
accessory for any woman or man. The length is perfect for wrapping the scarf loosely around my neck, and I love that the lightweight material doesn't add bulk- just style.
The
Hunter Scarf
is available for purchase ($50) from the
cmarchuska
website. Purchase one for someone special as a Valentine's Day gift, or treat yourself to this
eco
-friendly, fashionable scarf. You will not be disappointed.